-The talk about the tv stations makes me laugh because no where I stayed had cable, so with only three channels to choose from, you didn't have a lot of options. But I think that even with cable, the most channels you got were like 25-30. NZ had just started getting Comedy Central there right before I left and that was a big deal. lol
-It's looks like Bret's just jumping around in the background to keep warm. They look so flippin' cold during that song.
-"Two man gang. Can you have that, David?"
"That's a pretty small gang. Technically, the smallest gang possible."
-The whole "He may be dead. He maybe did what?" conversation cracks me up every time.
-"I wouldn't have done it if I knew you were going to hassle me about it." Sounds like something I would say. lol
-I like to watch Jemaine because he tends to break and want to laugh a lot. Noticed a new one during the scene with John and Bret and those two girls at the bar when John says "I guess I'm somewhat to blame as well."
-I'm always amused that they are just standing there talking when John is mugging the old lady and then when he comes over, he has that lady's purse in his hand.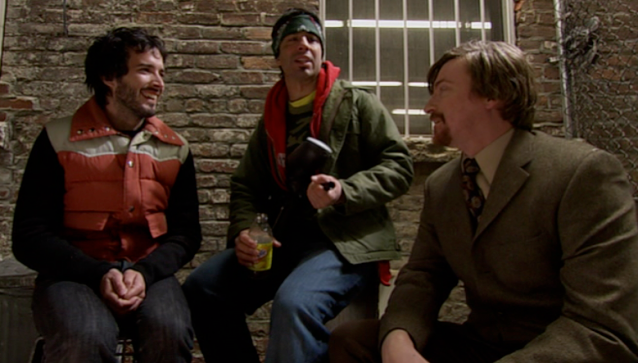 No real reason for this one, I just thought Bret looked cute here. Cute and cold.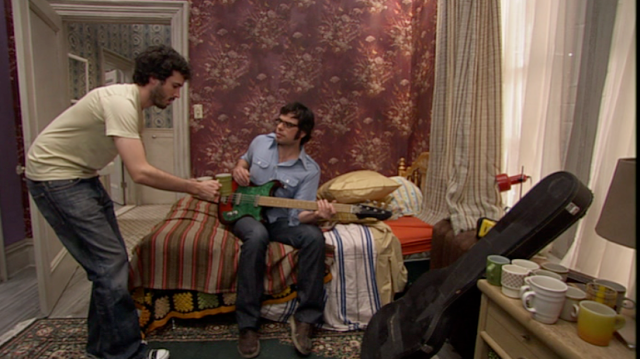 I don't know why Bret thought he needed a new cup. There's like 10 of them on the night stand.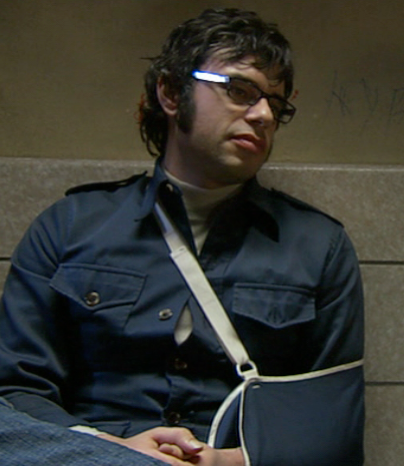 Lately, I've had a weird fascination with the buttons on Jemaine's shirts. Well, more like the lack of them.
I don't know why I'm just now noticing that Dave shot Murray with his paintball gun.