Nancy Hillner wrote:My only regret is that I didn't get to see them to see and sign my 91 year-old Mom's pic that I carried to three shows,

especially now knowing how thoughtful Jemaine was about writing a Mom note (My memory is shot - I can't remember who got their ticket signed for their Mom

) I wonder if they ever got their Pig N' Whistle shirts and Zicam?

Anyway, I'm happy the shows went so well - and you got to hear my very favorite song, Mermaids!!! Was it closer to the FTW version, or the one from the show?

Plus Pepileptic dogs!!! Oh, guys! Wow!!
I was the one who got their ticket signed for their Mom (it's okay, I'm not exactly a regular). I went up to him and asked him if he would sign my ticket for my Mom because she just loves him. He laughed and said, "Oh, and what's her name?" I told him and then he asked my name. He said, "It's nice to meet you Lauren", then he signed my ticket and wrote "Danielle, I love you too. Jemaine Clement". Then I asked if I could also happen to have a picture. He said, "Oh, I better smile since your Mum is going to see it." and that's why he's got kinda a goofy smile on his face in my picture.
Here he is signing the ticket for my Mom...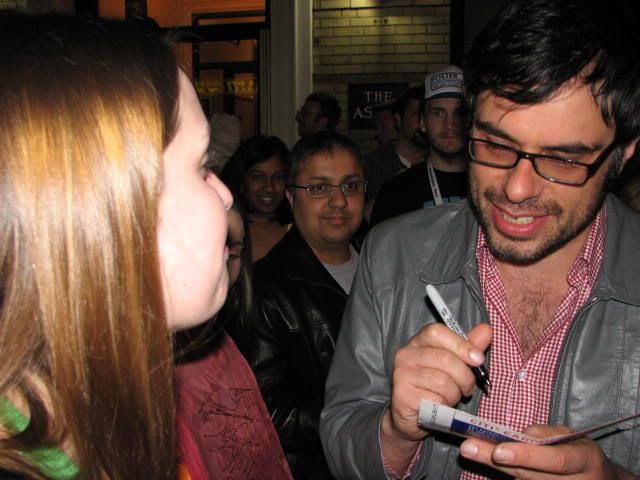 Mermaids was amazing. During a lull in the show, a man in the back screamed MERMAIDSSS at the top of his lungs in a mean way and the boys did a few jokes on it. They said how that was probably the angriest way the word "mermaids" has ever been said, and how it sounded almost like a man who has been lost at sea for 20 years and randomly sees a mermaid from afar.
Then they played a song or two and went into the beginning of "Mermaids" but Jemaine stopped and said, "Okay...we haven't played this song in forever." Bret said, "We haven't played it for 200 years." "Yes, not for 200 years, so we might mess this up pretty badly." and then they went into it, which was the tv version. I believe the only part they messed up on was after the line about the mirror and half a fish...they both stopped singing, then realized they still were supposed to sing the ah-ah-ah-oh-why-e-why-a part again.
Yes, they did play "Stana".