nonchalant obsession wrote: And SW, I only meant the

quality

of the Jemaine photos were crap. They are beyond precious to me too.
Oh yeah, I guess the flash didn't go off. But in the one hug photo where it did I was pretty whited out & the background was very dark. I kind of prefer the warmer colors in some of these photos even though they are grainier.
I love this look, it's his "I see I've been ambushed" face.
Ahhhh...he's listening very intently to me being weird.
Cuuuutte....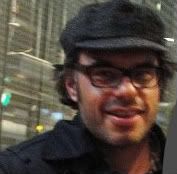 Sorry I could go on and on here.