Oh my gracious! I just had the most unexpected, awesomely amazing time tonight! It's a totally ridiculous hour to be posting this review, but I'm gonna do it anyway. (I apologize in advance for any spellling or grammatorical errors, I am really tired!)
Anywho...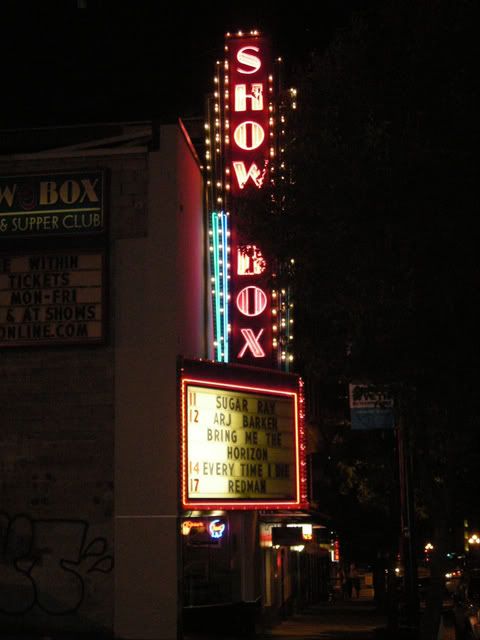 I saw Arj's show tonight at the Showbox at the Market (Pike Place Market, that is). I took a friend, because my long-suffering boyfriend was on a camping trip this weekend. Too bad for him, cuz it was awesome! I saw Arj open for the Conchords in May, but I have to say, I enjoyed his full set much better than the opener. He was more relaxed, told some jokes I hadn't heard before, and the venue was much more intimate. In fact, there were only about 10 rows of chairs (I was in the 6th row, I think). The rest was standing room only. So it was a really small, and super intimate. I tried taking a few pics during his act, but unfortunately, none of them turned out. I couldn't use flash, not that they would have turned out with flash anyway. Here's a pic of the empty stage before the show, if you are just dying to know what it looked like.
Arj was so funny and quick on his feet. He silenced hecklers, turned a conversation with a random audience member into a joke, and also chastised a lady for taking videos. He did a pretty long set, nearly 1.5 hours, I think. He looked really really exhausted though. He flew to the east coast yesterday for a gig, and he said he'd only had about 4 hours of sleep in the last 48 hours. He said people think he comes on stage high or drunk, but he's really just worn out from all of the traveling. Poor guy!
Ok...now for the bestest part.
Before he left the stage, he invited everyone to meet him the adjoining bar for a little after party. My friend had to leave, but I was soooo there! (After hitting the ladies' room anyway.) It was so cool, he just hung out at the bar, chatted with people, graciously took photos, and it was totally relaxed. I wasn't nervous to talk with him because he was so chill, but I felt super nerdy because I had a gift for him. I almost didn't give it to him, but I knew I'd regret it if I didn't. I had been searching through a rack of used military BDU's at an Army surplus store a few weeks ago, and I found a camo Jacket with a name patch that said BARKER. I just had to get it for him, because it had his name on it, and the camo reminded me of Dave. I pulled it out of my bag for him, apologizing the whole time for giving him such a cheesy gift. But you know what? He liked it! When he saw the camo, he noted that it was a "Dave thing", and when I showed him that it had his name on it, he was really surprised. He even put it on to check the fit, and it looked good! Eek! So, if anyone sees him wearing a camo jacket that says BARKER on his upcoming tour dates, please let a sista know.
Oh, and I had a question I was dying to ask him, even though it was rather silly. I asked him if he's ever experienced Indian parents trying to push their daughters off on him, because they want their daughter to marry him (This has happened to me before, and I'm not even famous.) He said no, and that those parents are probably looking for an engineer or a doctor instead. LOL!!! BTW, here's a picture of us. Arj took it himself. Oh boy, there is a lot of hotness going on here...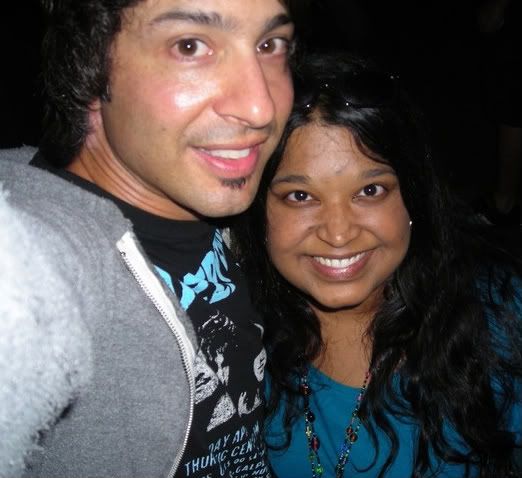 Ok, I'm probably boring you all to death now, but there's more! I met a couple of very lovely gals, who had flown in all the way from Toronto! How amazing is that? They wanted to visit Seattle anyway, and Arj was a good reason to finally make the trip. I promised them that I would not leave until I took a photo for them with Arj. Believe it or not, it took a very long time to make that happen, because I could never get the three of them in the same place at once. It finally happened toward the end of the party though. Here's a photo of Sara and me, and some guy standing behind us.
Here is the prized group shot of Arj and the lovely Canadians.
I know this is creepy and weird, but someone pointed out the cool shoes Arj had on. Being a shoe-aholic, I found it necessary to take a photo.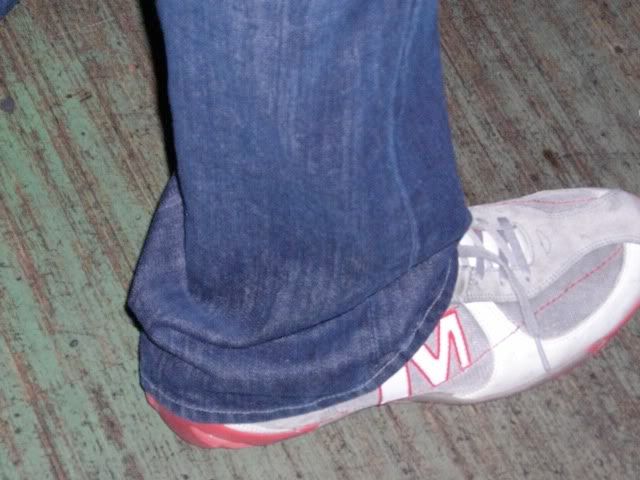 The gentleman in this photo actually went to school with Arj! He said they attended the same elementary school, junior high, and high school together. They hadn't seen each other for nearly 20 years, so it was awesome that they got some time to catch up. The girls and I chatted with him for a bit, but we didn't get any juicy stories out of him. Oh well. He had never seen Flight of the Conchords, so I explained the premise to him and STRONGLY recommended that he check it out. Immediately.
Alrighty, so the party wound down. The bar tenders were getting cranky, and almost everyone had left. Arj wanted to meet some friends at another bar, only problem was, we couldn't find it. So a group of us wandered around with Arj, looking for this mysterious bar. Arj asked a few locals (I'm a local, but I am no help when it comes to finding things), and no one knew who he was. I guess it's kind of nice that he can wander the streets of Seattle anonymously. He also had the jacket I gave him folded up and tucked under his arm while we were walking, which was cute. (Oh, one thing I forgot was that another fan gave him a gift of clothing. A very nice couple in the bar gave him a t-shirt, I didn't read what it said, but it looked cool. Arj put it with my jacket and said, "I've got a shirt, and a jacket. I have a whole new outfit." I told him that we just wanted to clothe him, not that the clothes he wears are uncool or anything. Blah, why am I such a dork?)
We finally found the bar, but I don't think Arj's friend was there. Arj suddenly realized how late it was, and decided to head out. He had a plane to catch in a few hours. Someone recommended he just stay up all night, but he said he needed some energy, because he was going to be spending time with his sister and nephews. Uncle Arj can't be too tired to play, you know. It was almost 1am, which is way later than I'm used to being out, so I called it a night as well. Arj gave everyone hugs, and said good night. As sleepy as he was, he was a sweetheart right up to the very end. Really quite an amazing guy. I wished him safe travels, and told him I hope he'd come back to Seattle again. He said he would, thanked me again for the jacket, and off he went.
So, that's pretty much it. I'm not able to read what I'm typing, so it's definitely time for bed. Night all, and for those of you going to his upcoming shows, enjoy!