Hello everybody! I'm back with more adventures with my buddy Arj!
As some of you may remember, I had a jolly good time with Arj in Seattle back in September. I was shocked to find out that he was coming back to the Pacific Northwest so soon! He is doing a total of 5 shows at The Parlor here in Bellevue, which is about a 2 minute drive from my home. So basically, I had no excuse not to go. Oh, and my boyfriend had no excuse not to come with me, finally.
Anways, even though we've lived in Bellevue for over 2 years, my boyfriend and I have never been to The Parlor. It's actually a swanky billiard hall (that is now growing a reputation as a comedy club), but we never felt like going in. Every time we would walk by, there would be girls in super short dresses, and super high heels waiting outside the door, while middle aged guys, who dress like they're young, try to hit on them. Basically, it looked like a hot mess, and Jonny and I wanted nothing to do with it, LOL! To my surprise, it is actually a fun-looking place on the inside. There are plenty of pool tables, comfy looking booths, and some private tables too. The comedy club was in the back, and we got to sit at tables and order food and drinks during the show. I do like a good cabaret!
A couple of comedians went on before Arj, including a guy from Portland Oregon who had me in stitches! Some of his jokes got groans instead of laughs, but that's better than nothing, right? He was a tall black guy with really long dreadlocks, and he said that Bellevue had the nicest racists he'd ever met, LOL! He said that people were constantly asking him if he was lost, giving him directions out of town, and offering him change. Yeah, sadly, I can totally see that happening here.
So, after a few more jokes from the club MC (who was super cute BTW), Arj came on, and, as expected, had the crowd roaring with laughter! He did some of the same jokes I heard when he came to Seattle 5 months ago, but they were still funny the second time around. He did have some new jokes, which were awesome. He told one about snakes that was so true and funny, I really hope it's included on his new CD. (I actually bought his CD for him to autograph, but I haven't listened to it yet, because I wanted to see his live show first.) He also had an amazing way of tying the old jokes into the new jokes, which was even more hilarious. He was much more awake this time than the last time I saw him (because he'd only had 2 hours of sleep before the September show), and even a bit hyper. He said it was because of all the coffee. Gotta love the Seattle area.
Arj ended his set with a song. He borrowed the MC's guitar to sing it, and he looked so cute holding it, so I just had to take a picture! I tried to be stealthy, and didn't use a flash or anything, but then suddenly, Arj looks over right at me and motions for me to put my camera down.
BUSTED!!! I felt really bad and thought, "Arj hates me now!" but I still enjoyed the rest of the song.
After the show, Arj was waiting outside the door, and selling a few copies of his old CD. There was a line of people, but it moved quickly because they all just shook his hand then posed for a picture. When it was our turn in line, no one was behind us, so we got to take a little more time. I said hi, and told him I saw him at his Seattle show. He said he remembered me, and that it was nce to see me again. Awww!!! He asked me my name again though, because he said he was bad with names, but I wasn't too offended, LOL! I also fessed up and said I was sorry for taking a picture during his song, it's just that he looked so cute with the guitar! He said, "That was you?" (Oh man, I could have totally gotten away with it...) I said it was indeed. He then told me that he just didn't want anyone filming it, because he caught one other lady filming, and and asked her to stop. He doesn't want his show getting posted on the internet for free, which I totally understand. I assured him that I only took a snap shot, but I would delete if he wanted me to. He patted my hand and said, "No, that's ok."
So I guess it's ok for me to post it for you all.
Then, I asked him to sign my LYAO CD. He took it from me, and stared at it. He said that it was the first copy of the CD he'd ever seen. I was pretty surprised, considering that it's been out for over a week, but he's a busy guy. He looked over the graphics on the CD sleeve, and he thought it looked really nice. I opened up the case all the way and showed him the CD on one side, and DVD on the other. He seemed pretty pleased. He said he wanted to keep it, but I was thinking to myself, "Um, I bought that for myself man..." He didn't try to take it from me, so I didn't have to say anything, LOL! Hopefully he'll get his hands on his own copy soon.
My boyfriend chatted with him for a bit, and asked him which comedians inspired him when he was growing up. He said that Steve Martin and Monty Python were early influences. He named a few other people, but the club was noisy, so I couldn't hear the rest. I got out my camera, and he asked if I wanted another picture. (He must have remembered our photo from last time!) I said that I actually wanted a photo of him with my boyfriend. So, I bust out my ghetto camera, and it doesn't want to take the picture. The guys wait and wait, and I finally give up and start to put the camera down. Of course, that's when it goes off, and I get this winner of a photo, LOL!!!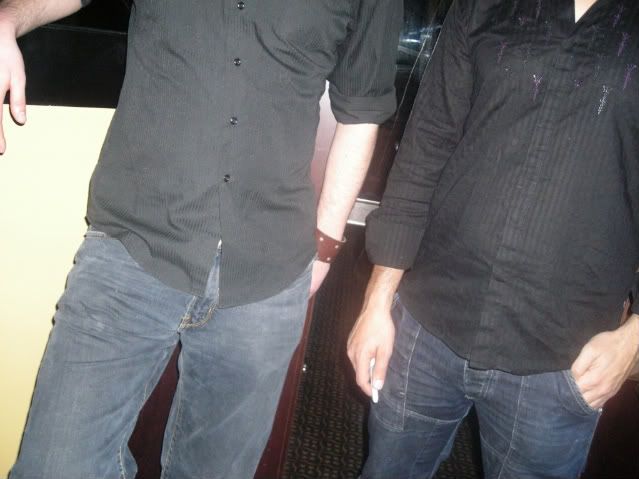 Needless to say, I tried again, and got a much better shot. Here's my honey Jonathan and Arj. I thought it was cute how they were dressed alike.
Yeah, Jonny is in need of a shave and a haircut, but hey, he's a designer and has no time for such things.
Being the cheeky monkey that I am, I couldn't resist, and just had to get in on the action. I wriggled between those two cuties, and had the security guy take this joyous photo.
As I put my arms around their waists, I said out loud, "I'm the luckiest girl in the whole world!" I probably should have kept that comment to myself. Oh well. So, the conversation was winding down, and Arj had another show starting in a few minutes, so we said our goodbyes. Arj asked me if I thought it was weird that he hadn't seen his own CD yet. I told him, "Hey, I felt bad for not buying it on the day it came out, but you hadn't even seen it, so I don't feel so bad." Jonny and I walked away, very tired from a long week, but happy that we decided to be cool for once, and have a fun Friday night. As Arj said in his act, the 7:30 show people are a wild bunch! We go out early so that we can be in bed by 9:30pm. Little does he know how true that is...
Sorry once again for the long read. I'm the only person I know who can turn a 3 minute interaction into a novel, so I do apologize. He's doing 2 more shows tonight, and if I had the money, I would totally go again.
That's all for now!