Oh man.
What a show...what a virtuoso. He's truly amazing. I'm so glad we went...I only wish I'd pushed Tom to go to both shows!
We got there around 10 after 7 and looked around at some of the art, (the show was at the Detroit Institute of the Arts) which I admit I didn't think I'd find very interesting. Until we started looking.
Wow. I was pretty humbled looking at what little we did see...and I got a new desktop background that is both arty and creepy.
I immediately thought this kid looked like he belonged in The Shining or similar.....
So as it drew closer to the second showtime, we made our way to the Rivera Court to find it almost full!
Luckily, somepeople got up and left, so we moved in and wound up in pretty good seats. I was surprised it wasn't in a bigger area but it was really a good spot for a musical performance. Very high ceiling and great acoustics.
If you go here, you can click individual pics and see the entire room and the art all done by Diego Rivera:
http://www.dia.org/object-info/c5404b86 ... 4dc1b.aspx
I looked around for CJ and thought I'd seen her, but it was another girl with shiny dark hair, lol.
She called me before Jake came on and we talked a couple of minutes and agreed to meet up afterwards. Then it was showtime!
So Jake was introduced and he talked a bit, telling us about himself. Here's a bit of that:
http://s119.photobucket.com/albums/o157 ... lf5-21.flv
Here's his first song, Dragon:
I hope you can hear them, as usually my audio isn't the best. Turn up the volume on the vids and your computer.
One of my favorite songs off of his Gently Weeps CD is called Blue Roses Falling- it's a beautiful song. He told the story behind it...said that he'd gone with a friend to visit that friend's Grandmother who was dying. She was hallucinating blue roses on her ceiling and asked them if they could see them falling. He then dedicated the song to anyone who'd lost someone. My Lord....the way he played it was heartbreaking....I wish I'd taped it but then again I wanted to just enjoy it.....I was teary but the woman in front of me put her head down low and was sobbing, it affected her so deeply.
Here is someone else's video from another show....he tells the story:
He didn't just sit on his stool either...he got up a lot and he'd turn in all directions so everyone could see him play.
He finished with While My Guitar Gently Weeps and said that he'd recorded it one day in Central Park and that the video had found its way onto this site called YouTube....and that his life hasn't been the same since.
He played (not in order- help me out if you can remember, CJ) Dragon, Blue Roses Falling, Ave Maria, Piano Forte, While my Guitar Gently Weeps, Let's Dance...I'm sure there were more...
Here he is doing Let's Dance from another show...but it's brilliant!!
It was a fabulous show, I only wish it had been longer, of course.
When it was over, Jake and Tom went looking at more art while CJ, her hubby, and I waited to get his autograph and a pic. I'd brought my 2 CD's and she bought some stuff....it really didn't take that long and he was a sweetheart. I asked if he was familiar with the WIUO and he said "Yeah, they're terrific!" I told him because of them and him, I was now learning uke and loving it. I'm sure I sounded like a complete nerd...I just told him how I loved his work and to keep doing what he does best...and thanked him.
Here's me and Jake: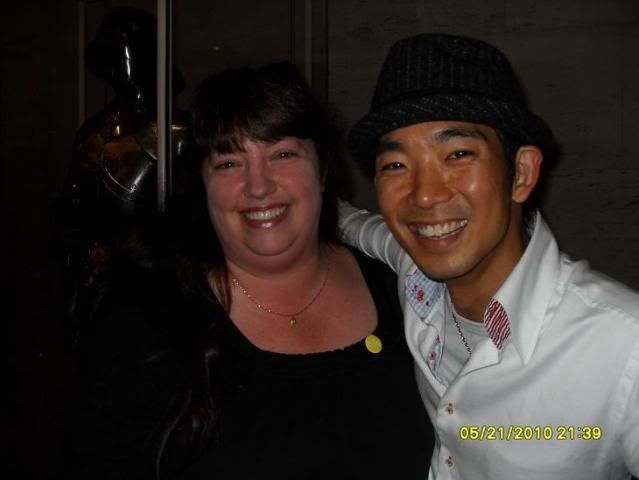 Me and CJ: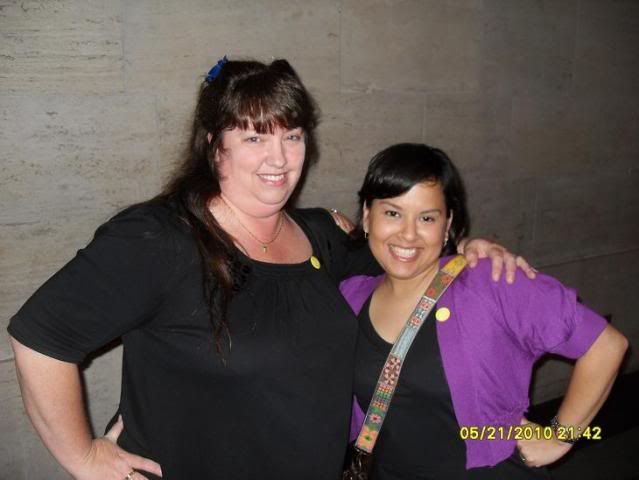 *I have Ave Maria and Gently Weeps on video but haven't duploaded yet. Tom kept telling me to zoom closer...so I did...and it really effected the video quality...
I can put them at photobucket if anyone want to see/hear/ The sound is good- for me.