Hello everyone! I am brand new to the forums, and like I said in the introductions section, I am so glad that I found you guys! I had an amazing time at the May 13th show in Seattle, and no one to share that joy with. I didn't see a posting for this particular show, so I hope it's ok that I'm starting this one. (I also apologize in advance for the blurry photos, I was using my cell phone camera.)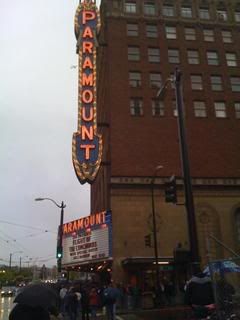 My boyfriend and I bought tickets off of Craigslist a few weeks before the gig, because all 3 shows were sold out at the time. Of course, they end up releasing more tickets a few days before the show, doh! Oh well, we had no way of knowing that, and I didn't want to run the risk of missing out, you know what I mean? Anyway, the tickets we bought were way up in the 3rd balcony, but Conchords from the nose bleed section is better than no Conchords at all. Heehee.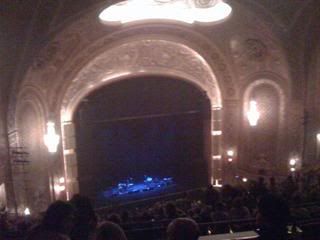 Unfortunately, I wasn't savvy enough to jot down the setlist, but I'm sure the program was pretty similar to the other shows. Highlights for me were Stana (so cool to hear a new song!) Business Time, Think About It (With a very heartfelt "Save the Whales" message beforehand), Hurt Feelings, Jenny, and of course...the raunchy R&B/boyband rendition of Sugarlumps! Those dance moves were top notch! And, I never knew that a microphone and a crotch made such a fine percussion instrument.
The Spinal Tap-esque encore of Demon Woman was pretty rockin', especially the fabulous costumes. I wish they could have done more, but they have so many great songs, you just can't fit them all into one show! There was some heckling going on, which annoyed me a bit, but the guys are so good at handling it. Their spontaneous reactions and jokes made seeing them live even more special, in my opinion.
After the show, I waited in the queue at the stage door with about 30 other people. It was raining, and cold, but we still had hopes for a meet'n'greet. My boyfriend was sick, and couldn't stand being out in that weather, so he went back to the car. I, on the other hand, had the fangurl will power to keep waiting! I had written out little thank cards for the guys, and I had written a song for each one of them. The lyrics were tucked into their cards, and I really wanted to give these to them. A crew member came out at about 10:30pm and told us that the guys wouldn't be able to meet with us until 1am! Oh gracious, I was determined, but not enough to wait until 1am. I had work in the morning. I debated whether to just hand my cards to a crew member and beg him to deliver them, or wait just a little bit longer. I theorized that the guy may have told us such a late hour just to get us to go home, but nobody left.
Well thank the Lord, we didn't have to wait until 1am, because about 20 minutes later, Bret appeared! I was towards the back of the line, which was ok, because it gave me time to juggle my thoughts, and all the stuff I had to give to him. Oh wow, Bret was so lovely in person! (Not that I expected him to be any other way.) He was so confident and kind, and generous with everyone's requests for autographs and photos. When he got to me, I was surprisingly calm and collected. I told him I was a musician, and that I had written him a song. He asked if I included chords with the lyrics, but unfortunately, I hadn't. I told him I would record it and send it to him, and then I talked it up like it was the best song ever, haha! He was like, "It's a prime cut, the classics." And I said it was indeed. He autographed my copy of Bust Magazine, and said that the photo shoot was a lot of fun. Then, he posed with me for this great picture.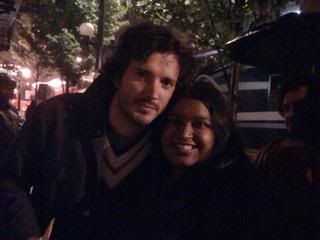 I met this sweet gal Christy while waiting in line. She had been following the tour across the US, and this was her 11th show! She told Bret that she would try to get into the Portland show the following night, but she didn't have a ticket. Bret was so awesome, he immediately pulled out his phone, and put her name on "The List", so she could get into the show! Isn't that amazing! What a guy!
Jemaine had come outside by then, equipped with a green umbrella. The line wasn't as orderly now, people were just swarming around him. I waited patiently, and finally got my turn to share with him my love for his music, and soulful voice. But I gotta say, the moment I heard his deep speaking voice, I turned to mush! Oh my goodness, I was shaking his hand, and I shook it a little too long, LOL! He started to let go, but I kept shaking it and staring at him like a goofball. I did manage to give him my card, and have him sign the magazine, which I told him was one of the best magazine covers of all time. He said it wasn't exactly one of the best, but I assured him that it was (and probably freaked him out with my enthusiasm). Christy got this shot of Jemaine and me, armed with our bumbershoots.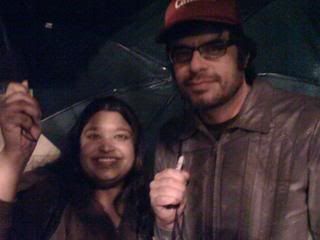 Christy and Jemaine.
When they walked away, I yelled out thank you to both of them, and stood there in disbelief. Did I really just meet Bret and Jemaine? Did I really? Thankfully I had the photos to prove it, or I might still think it was a dream. I was so grateful for their kindness and generosity, braving the elements to meet the fans even though they had a gig the next day. They're the kind of guys you can adore as musicians, and as people, and I feel blessed to have had this experience.
Oh, here's my Bust Magazine, made even better with a couple of signatures!
Was anyone else at the show? I'd love to hear your reviews as well!